Discover here the visualization apps of the Mobiliar Lab. These visual applications are outcomes of the implementation projects. On this page we will present the already finished products and prototypes which are still under development.
3D Visualisation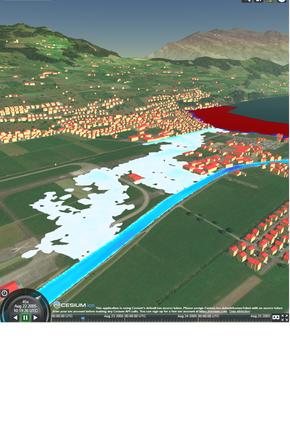 Visualisation of 3D and 4D flood simulations
A risk-based, comprehensive approach to natural risks entails providing extensive information to the public. Even today, the dangers of flooding are illustrated primarily using 2D maps or films depicting simulations. But maps cannot bring these dangers truly to life and are difficult to read for many people. We believe that non-specialists would be better able to comprehend the dangers of flooding if presented with 3D and virtual-reality simulations. These aids would be used where no historical photographs exist to show what did and could again happen. Visualizations are also helpful for communicating what future events might look like.
Risikodynamik.ch
Calculating and visualizing natural risks
This Webtool interactively displays how the flood risk along the Emme River has changed over the last 200 years in the section between Burgdorf and the border between the cantons of Bern and Solothurn. In the section being examined, the Emme was transformed from a wide, shallow river into a much deeper body of water flowing in a narrow channel. The area of the water course declined from just under 2 km2 to less than half this figure. Not only the course of the river but also the surrounding area and its settlements have altered significantly over the last 200 years. In the area being examined, the number of buildings increased from around 600 in 1820 to approximately 6,500 today.
Klimacontainer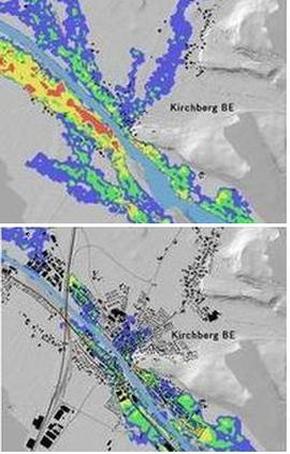 Applikation Klimacontainer 17
Zwischen dem 17. August und dem 16. September 2017 organisierte das Oeschger-Zentrum für Klimaforschung (OCCR) in Zusammenarbeit mit der Stadt Bern eine Container-Ausstellung zur «Berner Klimaforschung». Der Beitrag des Mobiliar Lab für Naturrisiken befasste sich mit den Einflussfaktoren des Hochwasserrisikos: Niederschlag, Siedlungsentwicklung, Eingriffe in das Gewässersystem und Hochwasserschutzbauten sind diesbezüglich entscheidend, ändern sich aber in Raum und Zeit. Wie wichtig sind die einzelnen Faktoren für die Entwicklung des Schadenpotenzials? Wie entwickeln sich die Hochwasserrisiken und welche Rolle spielt dabei der Klimawandel?
Image database
Collective flood memory
Flooding images allow a more intuitive approach to flood hazards than risk maps and are an important information carrier of past events. The collective flood memory which has been released in May 2018 includes georefenced pictures from all over Switzerland. The existing image archives as well as the population serve as image sources. The public can give its own pictures a platform by uploading them on the website.
Flood risk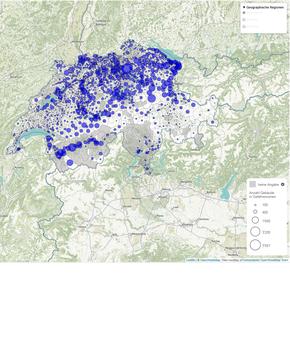 Where floods cause the most damage
The hazard maps are soon finished for the whole of Switzerland. But how many buildings are located in the flood risk zones - how many people live in it? And which regions and communities are particularly affected? Current research results provide detailed answers and a web tool shows this for the first time for Switzerland.